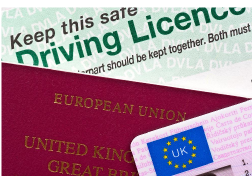 What Documents Do I Need?
What Documents Do I Need?
An overview of the DBS's document checking guidelines
The DBS have created a 3-tiered document nomination process that dictates which documents must be presented in support of your DBS Check application. Route 1 must be exhausted before Route 2 can be attempted. Route 3 exists as a last resort. This page outlines the valid combinations of documents.
The following information is based on the official DBS Identity Checking Guidelines. A link to the relevant document groupings can be found at the bottom of this page.
DBS Route 1
A minimum of 3 documents must be presented
At least one document must be a 'Primary Trusted Document' from Group 1 (Driving Licence or Passport taking priority)
At least one document must show the current address
At least one document must show date of birth
All documents must be in the current name (although statements and letters can be in joint names, provided the applicant's name is clearly identifiable)
If the applicant does not possess sufficient documents to submit a Route 1 application, they must sign a declaration form to confirm this and proceed with a Route 2 application.
NOTE – Non-EEA Nationals:
All Non-EEA Nationals should be validated via Route 1 only.
DBS Route 2
If a Route 1 application is not possible, then the applicant must submit their application following Route 2. The Route 2 documents are:
A minimum of 3 documents (but more is better).
At least one document from Group 2a, plus two additional documents from Group 2a or Group 2b.
All documents must be in the applicant's current name.
At least one document must show the applicant's current address.
At least one document must show the applicant's date of birth.
A Third Party ID Verification Check, including an ID Check consent form. The check is paid for by the applicant.
DBS Route 3
If the ID check fails, then we will contact the applicant to confirm the DBS Route 3 application process, which requires a UK Birth Certificate plus 1 document from group 2a and 3 documents from group 2a or 2b, making 5 documents in total. If this Route fails then we will be required to initiate the DBS Fingerprinting process to establish identity.
Which Group is my Document in?
Click here to see the valid documents and their respective groups.
What are the different types of DBS form?
Fingerprint Process
Once all other application Routes available have failed, the DBS will undertake a process of Fingerprinting, to confirm the ID of the applicant. The application must be made with a DBS paper application form and submitted twice to confirm the need for the Fingerprint process. The Police Force local to the applicant will initiate contact and arrange a time for the applicant to attend a Fingerprinting session. It is recommended that applicants avoid this Route, as it can cause significant delays to the process of applying for a Disclosure (from our experience, up to 3 months).